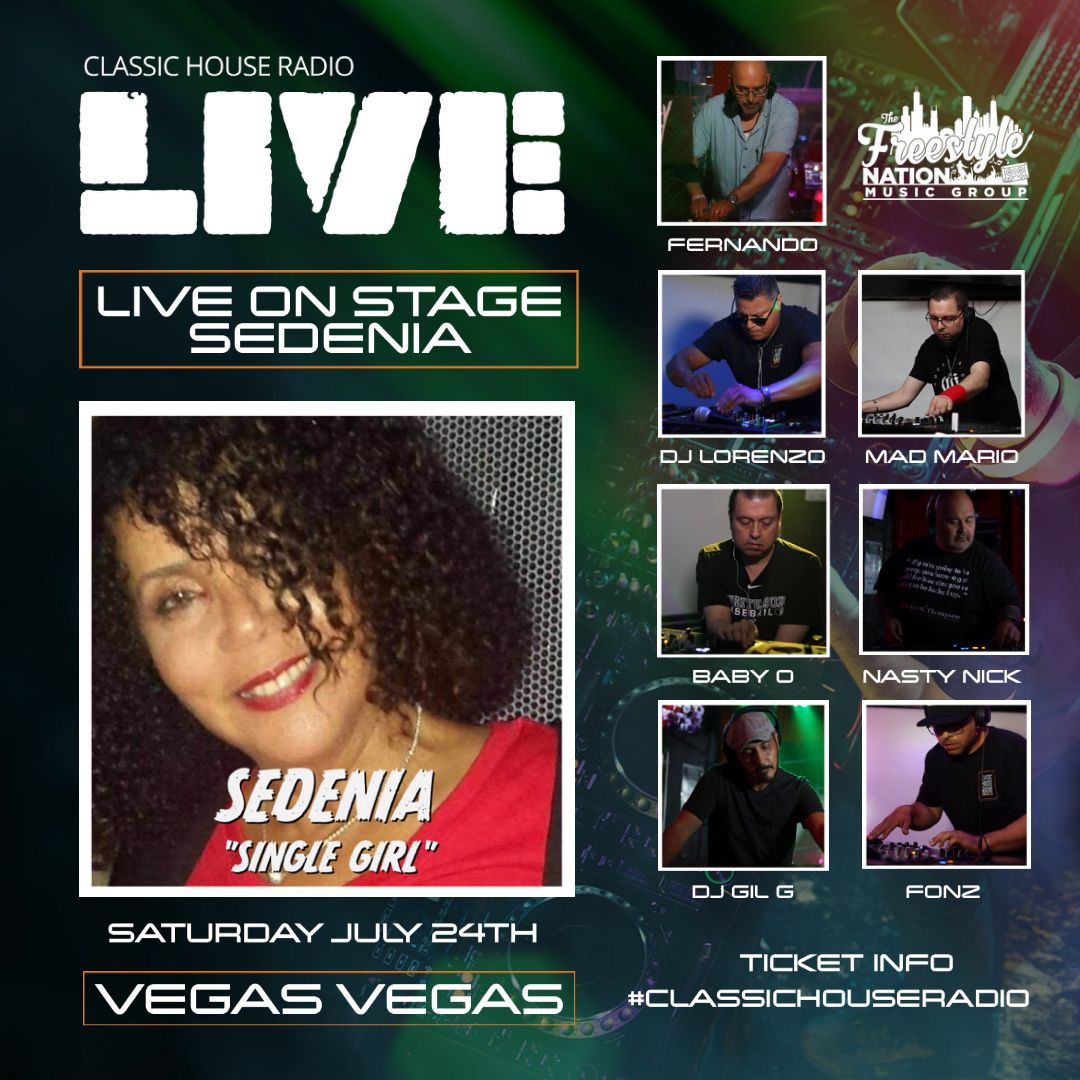 THIS EVENT HAS BEEN CANCELED. WE MAY SCHEDULE THIS FOR A LATER DATE OR AT A DIFFERENT VENUE.
Classic House Radio Live Saturday July 24th featuring Sedenia the singer of the original house music hit "Single Girl" by the legendary Chicago group Knight Action. Classic House Radio Djs will be mixing house music from the 80's all night long. This is going to be a memorable night for you true old school house music lovers. 
Classic House Radio Dj lineup Fernando, Baby O, Dj Lorenzo, Gil G, Nasty Nick, Fonz Stabolito and Mad Mario. 
Doors open 9pm till 3am. 21+ Dress to impress. 
Table reservations available. Cover $15 at the door. Save and buy your tickets in advance. Prices start at just $8. 
Advance ticket prices. 
General Admission $8 
Tables include price of admission. 
Table of 2 $20 
Table of 4 $35 
Table of 8 $45 
Stage table of 2 $50 (best seats in the house) 
Party table of 16 $75 
GET YOUR TICKETS ON EVENTBRITE HERE.
Event is presented by a partnership of Classic House Radio & the Freestyle Nation Music Group. 
Classic House Radio is one of the largest all house music radio stations in the world. We are on air 24/7. Our feature program is the Classic HouseRadio Mix Show heard every Friday (old school house music) & Saturday (new house music) 10pm til 4am CDT. 
Listen to Classic House Radio here. 
Join the 60,000+ social media followers we have and follow us on Facebook and Instagram @classichouseradio