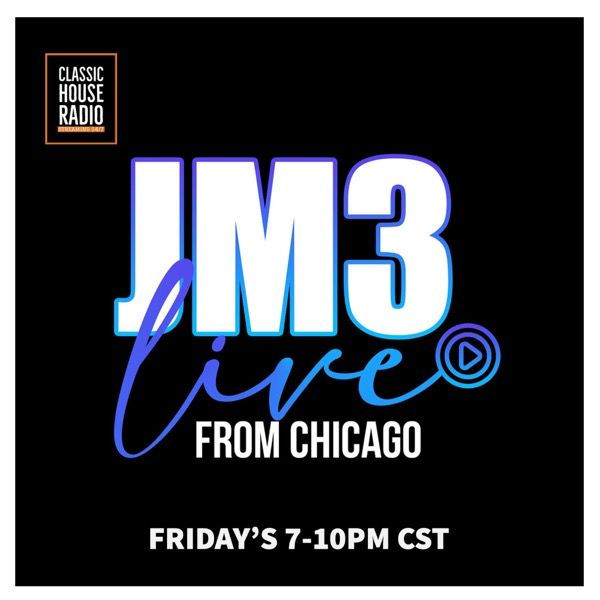 We would to tell you about one of our radio shows on Classic House Radio. JM3 Live from Chicago is on Classic House Radio every Friday night 7pm till 10pm CST. The show is hosted by JM3 a long time Chicago Dj with a long history of doing radio shows on various radio stations and radio sites. This is the real deal, it's live featuring 3 hours of continuous mixing of everything from old school house, to disco, dance classics and nu disco. It's the type of show that makes you want to get up and move your feet. JM3 Live from Chicago has been on Classic House Radio since 2018 and is the bedrock of our Friday night's. We highly recommend you check JM3 Live from Chicago if you haven't done so yet. You can Follow JM3 on Facebook, Twitter and Twitch. JM3 also live streams video of the show so you can watch him mix it up. We have couple of past show below for you to listen too. You can also follow JM3 on Mixcloud as well. We will put all the links below.
Follow JM3  
Click here to visit the Classic House Radio Store. We have various Classic House Radio t-shirts, zip up and pullover hoodie sweaters available to buy. 
Classic House Radio has been added to the Streema Radio Directory. We can be heard in their FREE radio app. Just search for Classic House Radio and save us as a favorite.
Listen to Classic House Radio.
Check out our Mixcloud page here.
Check out our music page here.
Follow Classic House Radio on Facebook here @classichouseradio
Follow Classic House Radio on Instagram @classichouseradio
Follow Classic House Radio on Twitter @classichchicago