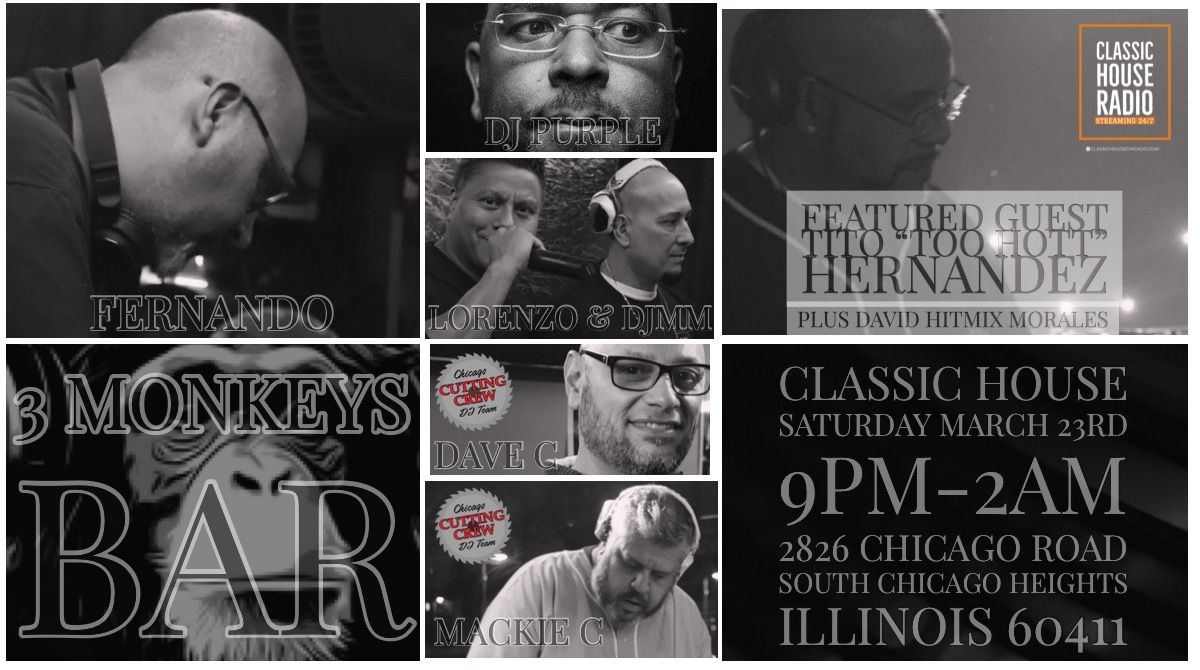 Fernando here with you, personally inviting you to our free party Saturday March 23rd at 3 Monkeys Bar in South Chicago Heights, Illinois. This is our 4th party at this spot. We just love this place. The PA system sounds fantastic, the vibe is friendly, the drink prices are amazing and there is plenty of great parking. Plus 3 Monkeys Bar is super easy and quick to get to from all points via Illinois 394 south to Sauk Trail west  to Chicago Road heading north. 
Here is the address below. 
2826 Chicago Road South Chicago Heights Illinois 60411 
This party just like our Classic House Radio logo represents, the Dj's will be on the turntables spinning vinyl just like all the parties back in the day. I have choose some of the best Dj's on the turntables in Chicago along with a couple of our very popular resident Dj's. We are going to cover a lot of your favorite classics from the 80's and 90's.This is like a history of House Music being played out on the turntables. 
We will be featuring all the Dj's playing at our ALL VINYL Party this week on the Classic House Radio 5 O'clock Mix heard Monday through Friday 5pm central time on our website classichousechicago.com 
Also join us on Classic House Radio for our morning show "The Classic House Program" hosted by me every Monday through Friday 7-9am central time. I'll have updates about the party and music, mixes plus other light topic talk. 
I hope to see you this Saturday at 3 Monkeys Bar. 
Thanks for listening 
Fernando 
Follow Classic House Radio on Facebook